Junctiv helps you harness your business data.
Get deeper insights. Connect the dots and drive your business forward.
Make your data work harder
Graph databases show you how to sell more, plan ahead and make your customers love you.
You can literally see meaningful connections in your data. See the business opportunities that your tables, dashboards and spreadsheets are hiding.
Get value out of your data, just like the biggest names in business
Amazon, Walmart, and eBay use graph data to improve the customer experience, plan for the future and increase sales. But today, many growing businesses can take advantage of this technology.
Graph databases have proven to be very effective in:
Operational or supply chain optimization
Risk analysis
Organizational change management
Digital commerce analysis and security
Sales optimization
Technology infrastructure security and planning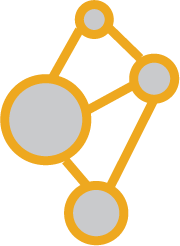 Discover the power of graph data relationships with Junctiv